An easy breakfast, lunch or snack when short on time
A quick shake, an instant porridge or an easy yoghurt bowl. Packed with protein, healthy fats and fibre, no prep or fuss.

Loaded with the best foods that nature has to offer, Purition will nourish your body, satisfy hunger and keep you feeling full and energised between meals.
Why whole food nutrition?
Health professionals agree that a diet rich in whole foods is key to better health & sustainable weight loss.
More protein ✓
More fibre ✓
More plant based fats ✓
More natural nutrition ✓
Naturally gluten free ✓
Naturally low in carbs & sugar ✓
Naturally vegan & vegetarian ✓

Purition makes 'healthy eating' (eating more whole foods) easier.
Try Purition for two weeks!
New customer? Choose 14 sample sachets and simply swap breakfast or lunch for 2 weeks before buying larger bags.
The benefits of Purition
Lose Weight
A meal that's ready in seconds and keeps you full for hours.
Increased Energy
Increased Energy Improved blood sugar response = more energy and less cravings.

Aid Digestion
High in soluble and insoluble fibre to feed your microbiome!
Better Health
Replace ultra-processed foods with nutrient dense whole foods!
Build Muscle
Replace lost nutrients & recover faster with whole foods and 16-20g protein.
Support Immunity
Improved gut health improves your immune response.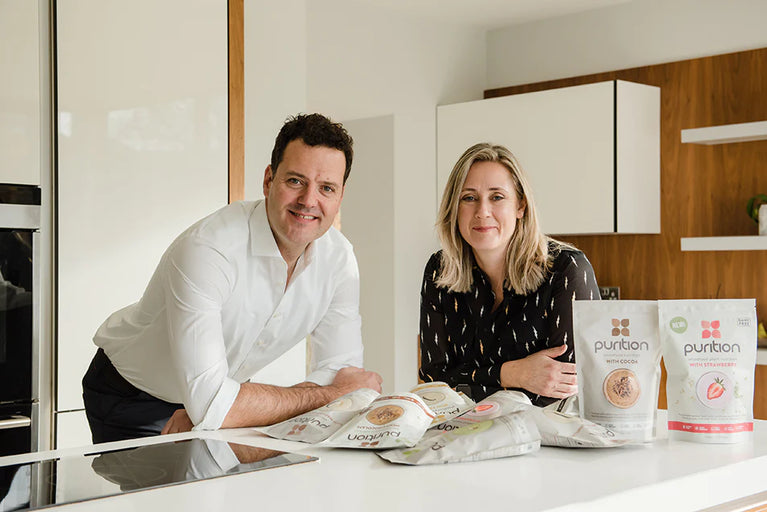 Who we are
We didn't make Purition for nutrition experts who find it easy to eat healthily all the time. It was made for people who struggle to eat healthily consistently for all sorts of reasons.

We count Doctors, dieticians and nutritionists as customers, & are a family-run business doing the right thing with our real food approach.
Nutrition that doesn't cost the earth
Read more about how we're backing words with actions on sustainability. No other nutrition company does this.
PAPER PACKAGING
Award winning recyclable paper sachets and bar wrappers!
LOWER FOOD MILES
Championing locally grown ingredients.
REDUCING PLASTIC WASTE
Across the supply-chain, production & packaging
ZERO FOOD WASTE
1/3rd food produced globally goes to waste.
What makes Purition special
We produce everything we sell and importantly sell everything we produce, every week. This means everything we send out is freshly made and at its nutritional best!